Our Cleaning Kits offer our premium quality cleaning products bundled together at discount prices! Starting with our Bronze Cleaning Kit through to our Platinum Plus kit, we have all your cleaning needs covered..
This Gold Cleaning kit combines absolutely everything required for cleaner & detailing your motorcycle. Also included is our helmet & visor cleaning and water less wash, perfect for cleaning between major washes. All combined with our 30L Wash Bucket with grit guard and screw top lid.
This kit includes: (x12 Separate products)
1L Motorcycle Cleaner
Chain Brush
Engine brush
Wheel Cleaning Brush
Noodle Hand Wash Mitt
1200gsm Microfibre Drying Towel
1L After Wash Spray Polish
Microfibre Polishing Cloth
1L Waterless Wash & Wax
300ml Helmet & Visor Cleaner
Microfibre Helmet Cloth
30L Wash Bucket & Grit Guard
Check out our pricing table below and see which is the Cleaning Kit for you...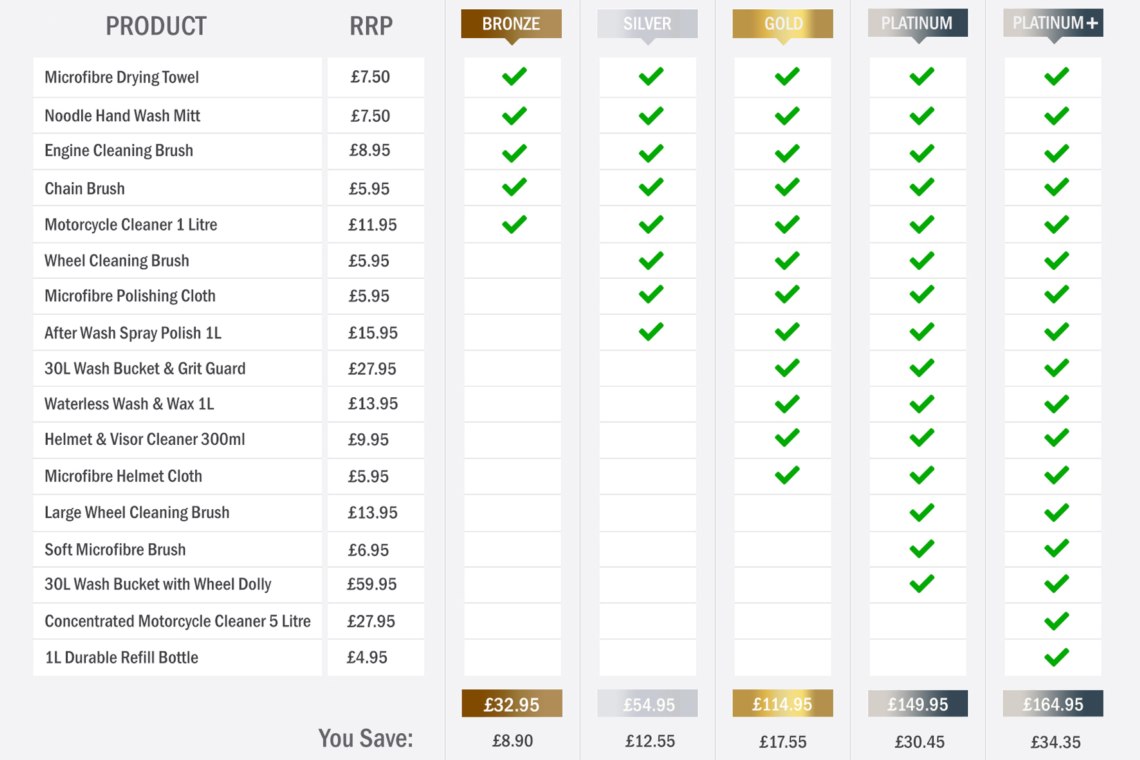 We also have Platinum & Platinum plus kits available, each offering even more of our cleaning range bundled together at discounted prices! For a more budget option, check out our Silver and Bronze Cleaning Kits.
Got a Question about the abba Gold Cleaning Kit?
If you would like to ask us a question about the abba Gold Cleaning Kit, please fill out the form below and we will contact you within two working days.
For a faster response, during office hours, please phone +44 1245 322 331.
Please note fields marked with * are required.